Start Now, and enjoy
₹20/month for 3 months
Try Webina Kit free for ₹20/month for first 3 month, no credit card required
By entering your email, you agree to receive marketing emails from Shopify.
Our Pricing
₹
1499
/ month (Billed Anually)
Basic
Get your first 3 months for ₹20/mo
FOR INDIVIDUALS & SMALL BUSINESSES
Everything you need to create your store, ship products, and process payments
Basic reports
Unlimited Products
1 staff accounts
₹
5599
/ month (Billed Anually)
Pro
Get your first 3 months for ₹20/mo
FOR SMALL BUSINESSES
Level up your business with professional reporting and more staff accounts
Professional reports
Up to 1,000 inventory locations
5 staff accounts
₹
22680
/ month (Billed Anually)
Advanced
Get your first 3 months for ₹20/mo
FOR MEDIUM TO LARGE BUSINESSES
Get the best of Shopify with custom reporting and our lowest transaction fees
Custom report builder
Up to 1,000 inventory locations
15 staff accounts
Please note that the prices listed on our website do not include GST.It will be calculated and added separately during the checkout process..
Pricing and feature information for all Webina Kit E-commerce plans
---
Basic
Pro
Advanced
Pricing
Pay Monthly
₹1,899 INR/mo
₹6,999 INR/mo
₹24,999 INR/mo
Pay Yearly
₹1,499 INR/mo
₹5,599 INR/mo
₹22,680 INR/mo
Features

Online store

Start an online store with Webina Kit's robust ecommerce platform.

Unlimited products

Add unlimited products to your store.

Staff accounts

Add staff to help in the management of your store, such as adding products and managing orders.
2
5
15

24/7 support

Webina Kit support is available 24/7, no matter which plan you're on.

Sales channels

Promote and sell your products on multiple sales channels, including social media and online marketplaces.

Electron storefronts

Modify custom storefronts with Webina Kit framework, then deploy for free with built-in cloud hosting.
1 public storefront
1 public storefront
1 public storefront

Inventory locations

Track inventory, fulfill orders, and sell products across multiple locations, including retail stores, warehouses, pop-ups, and more.
up to 1,000
up to 1,000

Manual order creation

Create new orders and enter payment details right from your Webina Kit admin.

Discount codes

Offer your customers a fixed value, percentage, or shipping discount on products or collections.

Free SSL certificate

Webina Kit provides free SSL certificates to encrypt your online store's content and publish it securely.

Abandoned cart recovery

Automatically send emails to customers who leave your store without completing the checkout process.

Gift cards

Expand your current customer base and attract new customers by offering gift cards.

Reports Access

a wide variety of reports to help track and analyze your store's performance.
Basic
Standard
Advanced

Third-party calculated shipping rates

Show calculated rates with your own account or third-party apps at checkout.

Customer segmentation

Filter and group customers into hundreds of segments.

Marketing automation

Build custom automations so you can engage customers at every stage of their journey.

Unlimited contacts

Add unlimited contacts to your Webina Kit account.

Ecommerce automations

Automate manual tasks, build workflows, and grow your business with the first built-in ecommerce automation platform.
International Commerce

International market management

Define geographic market areas to ensure you are providing a localized buying experience for customers in different regions.

Market domains and subfolders

Assign custom web addresses for each market that are optimized for search results and automatically redirect customers to the right domain based on their market.

Language translation

Translate your store into multiple languages to provide a familiar shopping experience for customers in different markets.

Product pricing by market

Take greater control of your international pricing strategy by setting specific prices for products or product variants in each market.

Duties and import taxes

Estimate and collect duties and import taxes at checkout to give customers total cost clarity and reduce your risk of returns and parcel refusals.
Alternative Solutions for your Business
---
Get your first 3 months for ₹20/month
Starter
₹399 / month
Sell products at events and through social media and messaging apps
Get your first 3 months for ₹20/month
Retail
₹4,999 / month
Sell in store with advanced staff, inventory, and loyalty features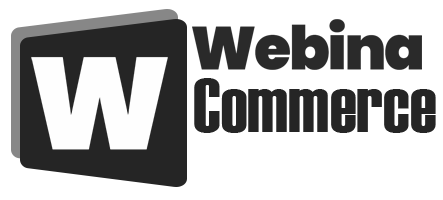 Let's talk
Busineee Automation | Sales Pipeline | Advance Reports ...
The modern composable stack for Enterprise / MSMEs

Starting at ₹65,000 INR/month
Enterprise power for high volume businesses
All payments will be billed in your selected currency.
Frequently Asked Questions
Webina Kit is an all-in-one commerce/business platform built for independent business owners to start, run, and grow their businesses online, in-store, and everywhere in between.
Here are just few things you can do with Webina Kit:
Create and customize an online store
Sell in multiple places, including web, mobile, social media, and brick-and-mortar
Manage products, inventory, payments, and shipping
Create, execute, and analyze online marketing campaigns
You can find the detailed pricing here.
Customized Business Solutions Starting at Just ₹499
Understanding that every business has its unique needs, we offer tailored solutions to meet your specific requirements. Our value-added services begin at a competitive price of just ₹499 for each feature addition, ensuring that you get the best value for your investment.
Dynamic Billing for Complex Use Cases
We recognize that some projects are more intricate than others. That's why we've introduced a dynamic billing system, designed especially for complex use cases. With this system, you're charged solely for the actual development time our team spends on your project. This ensures transparency and guarantees that you only pay for what you need.
Choose our services for a cost-effective, transparent, and customized approach to meet your business needs.
All Webina Kit plans are month to month unless you sign up for a yearly plan..
Yes, if you ever decide that Shopify isn't the best ecommerce platform for your business, simply cancel your account.
Absolutely, you can upgrade or downgrade your plan at any time.
No, all Webina Kit plans include secure, unlimited ecommerce hosting for your online store. Webina Kit uses the best servers and networks to ensure your ecommerce site is reliable and fast.
Yes, we offer a 20% discount on yearly plans.
You can use Webina Kit in nearly every country in the world.
Payment questions
There are no transaction fees for stores using Webina Kit COD Payments.
If you choose a third-party payment provider, there will be additional fees of 2%, 1% or 0.5% for our Basic Webina Kit, Webina Kit, and Advanced Webina Kit plans, respectively.
A third-party payment provider (also knows as a payment processor or payment gateway) lets you accept online payments. Learn more about supported third-party payment providers.
Store setup questions
If you already have an ecommerce website or are using a different ecommerce platform for your business, you can use the Store Importer app to import your products, customers, and orders data to Webina Kit.there are no setup fees on any of our plans.
Yes, you can purchase a domain name within Webina Kit, or use an existing one that you own. We also provide a forever free myshopify.com domain name to all stores when they sign up.
Yes, Webina Kit includes secure, unlimited ecommerce hosting on all plans except Starter. You can also use the Buy Button to add ecommerce to any existing website.
Everything you need to sell online, all in one place
Whether you're building a website, managing inventory, or responding to customers, you can do it all with Webina Kit.
---